J P Cycles
J P cycles "The Personal Touch" It's said you can tell a lot about a family by what you find posted on the refrigerator door. That's true here, too.
Our bulletin boards are full of appreciative notes from customers who got the products and service they were looking for, priced right and delivered on time.
We still believe that who you buy from is just as important as what you buy. That's why we strive to be the BEST mail-order company of aftermarket parts and accessories for your motorcycle.
Our complete catalogs are available on the Worldwide Web with secure online ordering. Our technical experts are available to answer your questions and get you the parts you need the first time. And, if you can't find a part, our experienced sales staff will find it for you.
J&P Cycles® has grown tremendously over the last 30 years, with the support and loyalty of our customers.
We'd like to personally thank you for the opportunity to bring you the highest quality and most extensive selection of parts and accessories at competitive prices.
We are looking forward to helping you restore or customize the special bike that expresses exactly who you are. Please continue to send us your suggestions and opinions, we value your input and love to hear from you. Send a message to us here.



Each year, J&P Cycles® produces one of the largest mail-order catalogs in the motorcycle parts industry, the Harley-Davidson® catalog. In addition to this, we also produce Metric Cruiser, Sport Bike, and Vintage catalogs.
They are free to U.S. and Canadian customers, with a small postage fee overseas. The complete J&P Cycles® catalogs (along with thousands more parts) are available on this website. This site is one of the most complete internet resources for motorcycle enthusiasts.
On the web you'll find motorcycle events, technical tips, customer bike photos and links to other motorcycle sites. J&P Cycles® prides itself on its first-rate customer service and offers 100 percent satisfaction.
J&P Cycles® also serves its customers through retail stores at its headquarters in Anamosa, Iowa as well as its Destination Daytona Super Store in Ormond Beach, Florida, FL.
A temporary retail store is also set up at the Sturgis Rally and Races in Sturgis, SD each August and features our 12,000 square foot retail store for your Harley-Davidson® and a second 1,500 square foot Metric showroom. The property features a full city block of blacktop highway frontage on Lazelle Street and is full of the industry's hottest manufacturers and suppliers.
John Parham was bitten by the motorcycle bug early in his life. His enthusiasm led to a partnership in a small motorcycle shop from 1975 to 1979.
In 1979 he and his wife, Jill, established J. Parham Enterprises, Inc., the predecessor to the present J&P Cycles®, Inc. During this time, John still worked full-time and followed his "hobby" in the evening and weekends. In 1982 John was laid off from his factory job. Two years later, in 1984, their small motorcycle shop burned to the ground.




When they easily could have given up, they didn't! Instead, they decided to rebuild the shop, and run the business full-time. Today, J&P Cycles® has grown from one employee to over 300.
In addition to the Anamosa, IA location warehouse, in 2007 a new 35,000 square foot facility opened in Ormond Beach, FL. at Destination Daytona. The new location features a 15,000 square foot retail space and separate call center. Return from J P Cycles to The Custom Car Mall Homepage.





Tell Us About your Custom Car?
Write It Here!
Do you have a great story about a custom ride, or own a custom yourself?.

Share it with us!

Tell us why you built your custom ride etc.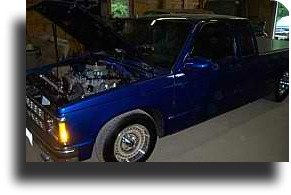 The Mall was built for people just like you, who would enjoy finding new products for their custom. It's a great place for showing off your ride! Show your custom project Here.


Think of This Mall as one of your local stores.