Car Drifting; What a Great Ride!



"Car Drifting"
Some significant factors about car driftBy: Rajkumar Jonnala | Posted: May 23, 2010
Drifting is a technique which is being applied for sports cars. The international events of motorsports are the best place to watch drifting.
Through this driving technique driver deliberately over steers to control the car at high speed while taking turn.
This is because taking turn at high speed becomes the cause of loss of traction of rear wheels. To have a proper drifting it is necessary to have great rear slip angle, then front slip angle.
In such kind of motor race driver have to control the car and nowadays many countries are arranging various competition of such cars.


While talking about the history of drifting, it becomes popular from Japan as they used this technique in their modern car race around 30 years ago.
The first trial of such technique was done in 1970s. Drifting the car from corner and moving at good speed is amazing and a good experience to watch.
One name in this list is famous for winning lots of prizes and he was Kunimitsu Takahashi. When the car runs on the track and take turns it produce the smoke tires.
Watching the race live, could be the best moment. Many other champions also tried the drifting and won various titles. Later all big manufactures did changes in their car and made it compatible for car drifting.


Today drifting is become the competitive sport and many drivers are participating in this rear wheel drive car race. One tournament is famous of these cars and that is D1 Grand Prix from Japan.
Earlier it was limited to Japan only but now almost all big nations are arranging various tournaments of these cars.
The known names of these nations are United States, Australia, Europe, Canada, New Zealand and many more. As driving is not easy for such cars so manufactures arrange the coaching center for their drivers.



If you go for the detail description you will find there are two sessions of the race. One is practice session and another one qualifying round.
After clearing such rounds the participants will get the chance to enter the final race.
These all sessions are needed to be cleared by all drivers because judges will provide the results according to all rounds and sessions.
While going for these rounds driver should try to overtake the lead car and have to spin the car as well. This will show ability of driver's driving and you will be having the more chances of winning.
Drifting contest results are based on line, angle, speed, and show factor, here the line means taking the turn from correct position.




Show factor is also a big cause in this sport and it is based on multiple things like production of smoke in huge amount, distance between car and the wall, and the reaction of crowed watching the race.
In this race angle means turning angle of the car in drift. Judge closely look all these features and announce the winner accordingly.
With all mentioned features drivers have to cover the distance in short amount of time to win the race.
About the AuthorRajkumar Jonnala works for Adrenalin, Australia's leading online suppliers of unique Valentines Day Gifts which includes things to do in Melbourne, Mothers Day Gifts, defensive driving course, drifting, mountain biking etc.Printed From http://www.articlesbase.com/cars-articles/some-significant-factors-about-car-drift-2431050.html Return from Car Drifting; What a Great Ride to The Custom Car Mall Homepage.



Tell Us About your Custom Car?
Write It Here!
Do you have a great story about a custom ride, or own a custom yourself?.

Share it with us!

Tell us why you built your custom ride etc.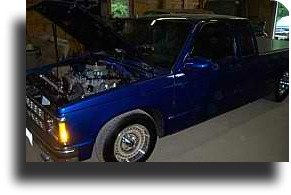 The Mall was built for people just like you, who would enjoy finding new products for their custom. It's a great place for showing off your ride! Show your custom project Here.


Think of This Mall as one of your local stores.