Vintage Hot Rods


Vintage HOT RODS Covers

The First time a Hot Rodding Timeline as Seen Through Select HOT ROD Covers of the '40s and '50s from the May, 2011 issue of Hot Rod

By David Freiburger
Photography by The Hot Rod Archives

Jan '48: The First HOT ROD...read full captionJan '48: The First HOT ROD
If you're a hot rodder, it's hard to have missed the tale of Robert E. Petersen and Bob Lindsay founding this magazine in conjunction with the Southern California Timing Association's Hot Rod Exposition, the first rod show ever, held at the Los Angeles Armory.




Lee Blaisdell shot the first cover with Eddie Hulse sitting in Regg Schlemmer's dry-lakes-racing T roadster.Today's HOT ROD staffers are humbled by the heritage of the brand we work for.
All we do, all we dream of, and every word we write is in the shadow of the hot rodders, racers, editors, staffers, and photographers who preceded us.
They just lived the job and the hobby they loved, but in the process, they created and documented the sociology of hot rodding.
For five years following its introduction in January 1948, HOT RODS stood alone as the bugle of an automotive underground that quickly grew into a nationwide rage, largely due to the reach of the magazine.
HRM therefore created its own competition as the hobby's popularity spawned a number of other pubs, some from within its own publishing company.
Yet HOT RODS was and is the largest.



It's been a target for niche titles that dive deeper into specific subject matters, and has often been less hip than its offspring,
but Vintage HOT RODS has always been unique in its ability to cover the breadth of the motorhead hobby with tentacles that have probed the evolution of fashion and technology for everything from hot rods and race cars to customs, Jeeps, dune buggies, import cars, boats, motorcycles, and vans.
As a result, viewing HOT ROD in retrospect reveals the curve of trends since the hobby began.




As insiders, we have almost daily exposure to the nuances of the hot rodding timeline presented through the eyes of bygone HOT ROD staffers.
Since that legacy is more revered today than ever, we decided to show you the hobby's moments of change as illustrated by the single page of HRM that has always represented what the editors considered to be the hottest and most timely subjects.
That most important of pages is, of course, the cover. Follow along as we trace the "firsts" of HOT ROD magazine covers of the '40s and'50s. Retrieved online on 9/23/2011, http://www.hotrod.com/thehistoryof/hrdp_1105_vintage_hot_rod_covers/viewall.html#ixzz1c7bpvZT2 Return from Vintage Hot Rods to Custom Truck



Tell Us About your Custom Car?
Write It Here!
Do you have a great story about a custom ride, or own a custom yourself?.

Share it with us!

Tell us why you built your custom ride etc.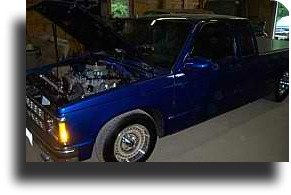 The Mall was built for people just like you, who would enjoy finding new products for their custom. It's a great place for showing off your ride! Show your custom project Here.


Think of This Mall as one of your local stores.