Muscle Cars "Raw Power"


American Muscle

Mustang a hard Kick!

2011 Chevrolet Camaro SS Coupe test drive

2011 Dodge Challenger SRT8 470 horsepower!

Muscle Cars - The Sweet Smell of Burnt Rubber and Octane and How Muscle Cars Were BornBy Rob Springer
Back in the late 1950s and the 1960s a car revolution took place with the big motor companies in the business. It took the nation by storm, where people were buying up these cars as quickly as they would come out.
It was an exciting time in the industry for both the manufacturer and they consumer. The public was hot on Muscle Cars.


By mid 1950, motor companies offered lots of different performance vehicles to the general product. The aim was on functionality and practically than anything else. This trend was fine for the traditional consumer, but there was a small pocket of the market that this did not work for. There were people who were not satisfied with the speed and performance of these vehicles and would enhance their traditional Model Ts to make them run faster.
This is where the original hot rods originated from, and muscle cars were on the horizon.



When the industry car makers realized that this market was out there, they began producing cars a little bit differently.
Dropping a powerful engine into a light weight mid size vehicle was the first step in the direction of designing cars that were built for speed and for power. Now people could get a very quick and powerful car off the assembly line, instead of doing various adjustments to meet their needs. This trend quickly caught on and Muscle Cars were born.
What is interesting is that this type of car manufacturing did not just happen in America, but muscle cars also shared the roads in Europe and Australia. Ford Australia, Holden ealer Team, and Chrysler Australia were all major contributors to the movement in Australia.
The first true Muscle Cars produced in Australia were Windsor powered XR Falcon, in 1967. The popularity of muscle cars increased to the point that the government had to step in to regulate speeds that were being accomplished on public streets. One notable case took place in Sydney when a young male was caught driving his 1971 Ford Falcon GTO Phase III at speeds over 150 mph on a very busy street.




It is no doubt that this kind of speed and power were of interest to people around the world. There was something about having the engine in a car to make it go extremely fast that people found very appealing.
Muscle Cars have a very storied past with lots of different makes and models from different companies that you can still see driving around to this day.
For More Muscle Car, Classic Car and Hot Rod information, auctions and muscle car sales, check out The Muscle Car Authority [http://MuscleCarSale.net].
About The Author:
Rob has been a TV producer and marketing expert since 1987. His tvscreen media creates & markets select web & video ventures.
(c) Copyright - Rob Springer / tvscreen media All Rights Reserved Worldwide.
Article Source: https://EzineArticles.com/?expert=Rob_Springer



Muscle Car Restoration - The Tools You Need
By David Atkin
In this article I will not be talking about how to set up a shop, but rather the tools that you need to restore your car at home. We all know that this is a big job, so get ready to get down and dirty.
The very first suggestion that I will make, is that you absolutely must have a garage to do the work in. It doesn't need to be a huge outrageous garage, just a place where you can leave your car for a while that will keep it out of the weather, this will not be a fast process.
The garage that you work from also needs to have power, this is also a must. You can't possibly do all of the work with hand tools. There are a few tools that I will suggest that you could live without if you have to, but most of them will be a must.
It would also be a nice idea to have heat in your garage, this will make it more comfortable to do your work. Below I will add a list of the tools you will need to restore your classic car. This list may not cover all of the tools, but it will cover most of the ones that are a must.
Let me also give a warning here, it you are one of those people who think that everything has to have a time limit, and that time limit must push you to move the job along quickly, this my not be that much fun for you, it will take a lot of time.
List Of The Tools That You Need To Do A Car Restoration
1. This is a must have, you will need an air compressor that can handle the work load that you will through at it. 2. You will need a full set of wrenches, both metrics and SAE. 3. You will need a ratchet, and a full set of sockets. 4. You will need a full set of screwdrivers. 5. You will need a 5" air grinder. 6. You will need a 1/2" and a 3/8" breaker bar, and sockets to use with them. 7. You will need a full set of pry bars. 8. You will need air lines to connect your tools to the air. 9. Optional it is always nice to have a drop light when you need it. 10. You will need paint guns to spray the primer with, I do not suggest low dollar spray gun, get about a mid range brand name gun. 11. You will need air files for shaping the body filler that you will be using. 12. You will also need long hand file boards, the shaping is always better when it's done by hand. 13. You will need body hammers and dollies to take out dents with. 14. Optional you should have a uni-spotter nail welder to pull dents also, a good brand to look at is stinger. 15. You will need a die grinder, this is an absolute must if you have rust, or dents that require you to cut out the area to fix the problem. 16. You will need a mig welder, this is another piece of equipment that is not an option, it is a must. Do not by a no name welder either.
This may not be all of the tools that you will need, but it should get you well on your way to getting the job done in an efficient manor. You should not have to look for tools every time you turn around if you have these basic tools.
The other thing that I always harp on is safety, you should always do you work with another friend around so in case something happens during the process and you need help. The key idea here is to have fun, and do the job in a safe manor.
Car Restoration Muscle Cars
I've been in the automotive business for about 20 or 25 years, I have worked in all facets of the industry, from parts to restoration, all different makes and models, I just want to keep people interested in the old cars because it's where my heart is.
http://autorevival.com
Article Source: https://EzineArticles.com/?expert=David_Atkin Return to The Custom Car Mall


Tell Us About your Custom Car?
Write It Here!
Do you have a great story about a custom ride, or own a custom yourself?.

Share it with us!

Tell us why you built your custom ride etc.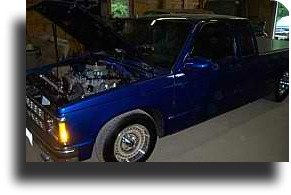 The Mall was built for people just like you, who would enjoy finding new products for their custom. It's a great place for showing off your ride! Show your custom project Here.


Think of This Mall as one of your local stores.