Street Racing



Fix Up Your Ride for Street Racing
By: Shane Hester | Posted: Jun 13, 2008
If you're looking to fix up your ride, you'll need to start with the engine. There are many car parts to soup up an auto's engine and you'll want to investigate all of them before you start.
If you're planning to join the world of street racing, you'll need every option available. From increased speed to better fuel efficiency, there are a myriad of performance enhancing devices that will take your factory car to new levels as a street racing machine.
One of the basic car parts that will make an automobile hotter, figuratively, is a cold air intake. A cold air intake keeps the temperature of an internal combustion engine down, allowing for better performance.
This works on a simple principle: cold air is denser than hot air. This means more oxygen is supplied to the engine, which works with the fuel to give the car more power.
Besides the mechanical reasons for adding a cold air intake, it also gives an ordinary car a more aggressive look and sound. Cold air intakes are loud!




Improving the exhaust system is another way to fix up a car for street racing or general performance enhancement. Look at the exhaust systems available and be sure to check the legality of each.
Sometimes a manufacturer will include a "Legal in 50 States" certificate. These certificates often refer to pollution standards, not noise standards. If you're not careful, you'll get a ticket for exceeding noise levels in certain areas.
In many modern vehicles, you'll need a flash tuner in order to achieve the greatest results with engine modifications.
With a flash tuner, you can improve fuel efficiency and bring out the most potential in your auto. A flash tuner works with the car's computer system to unlock hidden power in your vehicle.
Without one, the car parts that you added won't reach their full potential. Adjusting the computer in the vehicle without a flash tuner can turn a high-performance machine into a limping piece of metal.
Besides the engine, you can fix up your ride internally. Adding headrest DVD players are a popular option, though it's also popular with thieves.
Making the inside just a bit nicer can cost a little or a lot, but it's worth it for car enthusiasts. Check out hot-rod magazines for the latest in interior improvements since there's always something new on the horizon.
Don't forget to give that suped up car the facelift it really needs. Custom paint jobs, fenders and rims all give a car personality. Use your car as an extension of yourself with a blazing flame paint job.
Lower the body (within legal limits) and see heads turn as you roll by in your hot new car.
Car parts are one of the many ways to fix up your ride. With the resurgence in popularity of hot cars and street racing, it's no wonder that many people are competing to have the best ride in town.
Take the time to make your car a sight to be proud of and then blow everyone away with the best performance possible. Printed From http://www.articlesbase.com/cars-articles/fix-up-your-ride-for-street-racing-448706.html Return from Street Racing to The Custom car Mall Homepage.



Tell Us About your Custom Car?
Write It Here!
Do you have a great story about a custom ride, or own a custom yourself?.

Share it with us!

Tell us why you built your custom ride etc.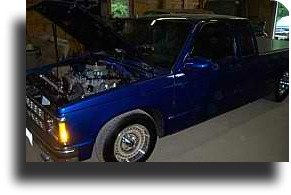 The Mall was built for people just like you, who would enjoy finding new products for their custom. It's a great place for showing off your ride! Show your custom project Here.


Think of This Mall as one of your local stores.