Custom Semi Truck; The Big Bad Boy!



"Semi Truck"
Four Ways to Customize Your Semi-Truck By: Bruce DeDona | Posted: Oct 25, 2011 As a truck driver, you probably spend a large part of your days and nights behind the wheel. While you can't make the miles go by any faster, there are some ways that you can customize your semi-truck to make your ride more enjoyable.
Custom audio solutions, navigation systems, Bluetooth integration, and window tinting can make your big rig driving experience more comfortable and entertaining.




Custom Audio Systems: With so much time spent in your Semi Truck and out on the road, your entertainment system is probably one of the most important aspects of your vehicle. Music an entertainment is essential for making those long miles go by a little easier.
Much of the same technology and innovations that are used for passenger vehicles are available for semi-trucks as well. Now you can enjoy high quality sound no matter where you may travel.
Navigation Systems: When you are traveling from city to city, it can be difficult to find the best route. Traffic issues may require that you leave your current route and find a less crowded alternative.
With a professionally installed navigation system, you can be sure that you will find the quickest way to your destination.

Time is money when you drive a Semi Truck and getting lost simply is not an option. A navigation system allows you to stay on track and prevents costly detours or time wasted trying to find gas stations, restaurants, or other places of interest along the way.




Bluetooth Integration: Operating a huge semi is a big responsibility. Taking your hands off of the road for even an instant can have catastrophic results.
This is one reason that Bluetooth integration makes sense for truckers. Bluetooth allows you use voice commands to make and receive phone calls as well as to operate your audio and navigation systems.



Window Tinting: You know the feeling of driving down the highway with the sun blaring through the window. The bright sun will not only make you feel hot and uncomfortable, it can obscure your vision as well.
Impaired vision from sun glare is responsible for numerous auto accidents each year. Window tint actually reduces glare and makes driving more comfortable. A high quality film with a high heat rejection rate will keep your interior cooler, even during the hottest days of summer.
No matter what kind of customization you want for your Semi Truck, be sure to find a qualified specialist who is highly experienced at working on semis. Not everyone has the knowledge or training to properly equip big rigs.




Find a company in your area that offers high quality products with excellent customer service.
Your truck is your livelihood and if you are not on the road, chances are, you are not making money. Therefore, you will need to find a window tinting and auto customization shop that will work quickly and efficiently so that you can enjoy your new features without a lot of downtime.
About the Author Bruce DeDona is the owner of DeDona Tint and Sound, and co-owner of DeDona Auto Glass, providing the Piedmont with expert auto glass repair and replacement, as well as premier custom audio installations, window tinting, mobile video, security systems and much more. Printed From http://www.articlesbase.com/trucks-articles/four-ways-to-customize-your-semi-truck-5337889.html Return from Custom Semi Truck; The Big Bad Boy to The Custom Car Mall Homepage.





Tell Us About your Custom Car?
Write It Here!
Do you have a great story about a custom ride, or own a custom yourself?.

Share it with us!

Tell us why you built your custom ride etc.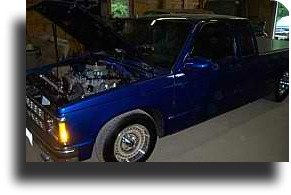 The Mall was built for people just like you, who would enjoy finding new products for their custom. It's a great place for showing off your ride! Show your custom project Here.


Think of This Mall as one of your local stores.