ShoW TimE


Check The Custom Car Mall's Video of The Month.


ShoW TimE
Home Movie Theater
Building your very own home movie theater is one good way to increase the value of your home.
And of course, it can be enjoyable and relaxing thing to do after a long day.
I bet you will agree! Furthermore, you will discover that a home movie theater is so simple to set up once you learn a few basic ideas about the whole thing.
Building a home movie theater is just about re-creating the exact ambiance of the actual movie theater but in a smaller scale. This is made possible through these two aspects:
1. Setting up of the right electronic equipment
2. Designing the interiors of the home theater in a way that it will be able to support the equipments as well as to look like a miniature theater.
Some electronic equipment that you should install in your home movie theater are:
• A large TV screen (the projector screens are more appropriate).
• Speakers
• DVD player or other movie player
The bigger your screen is the more real movie theater feel you will create. Plus, the quality of the surround sound also contributes greatly to the over-all ambiance of home movie theater.
If you have the budget to build a separate room for your home movie theater, you can choose to install a large theater projector for viewing the movie.
And certainly, large viewing screens are the better option for creating an authentic movie theater atmosphere compared to the big TV screens. Plus, projectors are not as expensive as the large screen TVs or flat wide screen TVs.
One more advantage of a projector is that you can also use it for presentations since it can receive output from a computer too.


You can also watch The Custom Car Mall Movie "Click Here"

Return for ShoW TimE to The Custom Car Mall Home page.





Tell Us About your Custom Car?
Write It Here!
Do you have a great story about a custom ride, or own a custom yourself?.

Share it with us!

Tell us why you built your custom ride etc.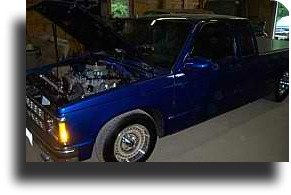 The Mall was built for people just like you, who would enjoy finding new products for their custom. It's a great place for showing off your ride! Show your custom project Here.


Think of This Mall as one of your local stores.