Green Cars In The Future?


Green cars - Saving and doing your bit for the environment
By: Dinesh | Posted: Jan 26, 2012
Introduction
With the increasing awareness about green house gases and other pollutants that are affecting our planet Earth, many vehicle owners are now consciously identifying green cars, even if means stretching their budget. When it comes to doing our bit to save the environment, we need to collectively take efforts.
Try going for eco friendly vehicles that would save on gas, petrol and diesel as it surely is a winning situation for all of us. You save costs and save the environment also. The concept of Green cars is surely gaining a lot of popularity and we should try and buy these as it will help us greatly in the long run.
Check out for green car options
Green cars are the ideal alternative and many car manufacturing companies are doing their best to come out with fuel efficient cars that reduce pollution. Bio fuels are used for a variety of purposes ranging from household to aviation and it is very effective for cars as well.
Many companies do not mind investing in the right research and development tools and techniques to make sure that the cars are fuel efficient and there is minimal pollution caused by the cars. Bio fuels are undoubtedly rich sources of energy and are a safer alternative to conventional fossil fuels.
The advantages associated with green cars are immense and we would be doing our bit to save our beautiful earth and also fight the ill effects of global warming. Our natural resources like fossil fuels are getting depleted day in and day out and hence we need to preserve it by adopting the right methods. There is zero emission that happens into the ozone layer and our planet can be saved.


Green cars – Ideal for short trips
When it comes to short trips, one should go in for green cars. There are specific charging stations for green cars. These cars run for close to one hundred miles and they need to be charged up again for it to run for another hundred miles. Green cars surely reduce the percentage of pollution close to thirty percent which is really very healthy. If you are using a household 204 volts for charging, Green cars can run for about three to five hours.
Different varieties of Green cars
Natural gas cars use natural gas and these are ideal for running big vehicles like delivery vans and dump trucks. There is less emission of carbon dioxide as compared to vehicles that use fossil fuels. Biodiesel cars run on vegetable oil and there is a reduction of close to forty percent emission as compared to traditional cars that run on fuels.
Biodiesel cars are ideal for short errands as well as long trips. Thus, it needs to be summarised that we need to take charge of the situation and adopt Green cars so that we are able to reduce the harm and damage that we constantly keep causing to the environment.
About the Author
For more Information visit us Green cars .Printed From http://www.articlesbase.com/cars-articles/green-cars-saving-and-doing-your-bit-for-the-environment-5604737.html



Guide to Choosing a Green Car
By: Tauqeer Ul Hassan | Posted: Jun 05, 2010
Green cars do not mean that their color is green. The fact is that these cars are fuel efficient and release less harmful gases. These cars are environment friendly. Toyota Hybrid Prius, Honda Civic Hybrid and Camry Hybrid 4-Door Sedan are some examples. Everyone tries to continuously make their quality better by reducing the pollution and irrelevant expenses.
Basically, these cars are a combination of these two aspects. It is also helpful in facilitating the new quality conscious generation.
There are several sizes, types and shapes of green cars. These are natural gas, fuel cell, bioethanol, ethanol, hybrid, diesel and gas. Many factors including your lifestyle and wallet have to be considered to determine a better car for the environment.
Selecting a green carConsidering the fuel efficiency is one reason for choosing a green car. So for choosing a good car, an efficient one with low engine capacity will be needed. This type of car utilizes advanced technology and it has the ability to provide sufficient torque at a significant low rate of RPM. A car will cover a long distance with less fuel at a significant average speed when its engine is working efficiently.




Besides that, when considering to go green, a lot of companies focus on hybrid cars having a fairly low engine capacity. However they are expensive to manufacture than conventional cars. Lesser fuel consumption means producing lesser emissions. These cars are specially designed for consuming less amount of fuel as a considerably better mileage simultaneously. Proper maintenance, good condition and reducing excess weight of the car is also important to ensure.
The main source of car emission is commonly known as Carbon Dioxide. So for getting a green car that does not emit such gases, BEV or Battery Electric Vehicle is a good option to consider. As the name suggests, it is an electric powered car and does not require any fuel for running but the vehicles would need charging before driving.
A fully charged vehicle has the ability to run for about 300 – 400 kms. Before getting this green car, it would be essential to consider its advantages and disadvantages.
For selecting a green car among the petrol cars, the good option to consider is the one that comes with catalytic converter, this device is used for reducing poisonous gas emissions that are definitely dangerous for the environment. This is done by burning the excess fuel before it is released in the atmosphere.
The conclusionThese were the basic guidelines to select a green car. However one must bear in mind these cars are not very cheap. As compared to regular ones, these are expensive.
Green cars are fuel efficient, environment and technologically friendly, they help to make the planet greener and healthier. Green cars are surely good to suit the demands of young generation.
About the Author
You might also want to learn how to maintain a tractor and how to choose a green car.Printed From http://www.articlesbase.com/automotive-articles/guide-to-choosing-a-green-car-2549240.html



What Makes Green Car Care Products Eco-Friendly?
By: Laura Klein | Posted: Aug 25, 2009
Until recently, car owners were faced with limited choices for getting their cars clean inside and out, most of which were not green options. None of the three most common choices were all that attractive for green car owners:
•Professional auto detailing services: You're certain to get a great job done when you take your vehicle in to be detailed by a professional team, but at what cost? These jobs can run upwards of $120 depending on what services you opt for. Plus, if you're concerned about your health and the environment, you may not like the chemicals and toxic air fresheners used to get your car clean with these companies.
•DIY car wash bays: Alternatively, you can take your car to the local vehicle washing bays to spray it down yourself or run it through a touchless system, but these commercial washing services use enormous quantities of water and again, questionable chemicals. It can also be costly, including your time, especially if you're doing a thorough job on your own.
•Wash car at home: While this is an economical solution, it involves dragging out the rags, hose, buckets, toxic cleaning products, which aren't healthy for you or the environment. Washing your car at home with a hose can consume up to 140 gallons of water with one wash.
Not only do you pay for that water, but all of toxic chemicals, oil, gasoline, heavy metals are washed straight into storm drains. And, it can take several hours to get the job done when washing a car the old-fashioned way with a hose and a bucket and dry time.
Most green car drivers looking for an economical way to clean their vehicles feel stuck between a rock and a hard place. They either choose something that's expensive with a few green attributes, or they do something inexpensive with fewer environmental benefits. There have been very few green car care products on the market until recently.
Thanks to some cutting edge technology and a real green spirit, the new Laura Klein's Green Car care products will get the job done in a fraction of the time, with zero water waste, and without harming the planet. These car detailing products are biodegradable, made from plant- and water-based ingredients, and they're non-toxic which makes them safe and healthy for you and the planet.
Laura Klein's Green Car Waterless Wash & Shine is a truly amazing product. All you need is the spray bottle and two microfiber cloths. You simply spray the solution on a two-by-two foot square area on your car and wipe away the dirt and grime with the first microfiber cloth, then polish and shine with a second microfiber cloth (or use a clean section of the first cloth) and you're done! No pre-wetting or rinsing required. It will not scratch your car.
It cleans and shines lightly to moderately soiled surfaces, lifting dirt and soil off surfaces for easy cleaning (they admit: their Green Car Waterless Wash and Shine isn't for caked on, four-wheeling dirt...its specialty is every day grime-fighting!).
No water, no bucket, no hose, or messy clean up! One 32 oz bottle will give you 10-16 car washes per bottle (depending on the size of your car) and can literally save $100s a year in professional car washing fees (depending how much you spend of course).
Other products include, the Laura Klein Green Car Cleaning Kit that comes with the Waterless Wash & Shine, Tire & Dash Dressing, Glass & Mirror and two microfiber cloths. If buying a hybrid doesn't fit your budget, greening your car with Laura Klein's Green Car Kit couldn't be easier.
About the Author
Want more information on green living tips and tricks? Sign up for the OrganicAuthority.com newsletter and get your free report How to Shop for Organic Foods on a Budget, brought to you by Laura Klein Green Living Expert.Printed From http://www.articlesbase.com/home-improvement-articles/what-makes-green-car-care-products-ecofriendly-1157655.html Return from Green Cars In The Future to The Custom Car Mall Homepage.


Got Green Power!

Nissan Green Program 2016!

Kia introduced the EcoDynamics!

Introducing the CT 200h lexus

Toyota has won the 2011 Green Manufacturing Award!


Volvo Car Corporation tops the tables among European carmakers when it comes to CO2 reductions.



Tell Us About your Custom Car?
Write It Here!
Do you have a great story about a custom ride, or own a custom yourself?.

Share it with us!

Tell us why you built your custom ride etc.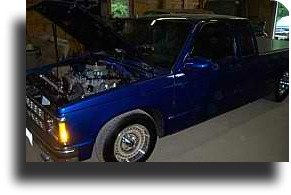 The Mall was built for people just like you, who would enjoy finding new products for their custom. It's a great place for showing off your ride! Show your custom project Here.


Think of This Mall as one of your local stores.