Custom Trucks are Here!




Custom Trucks
By Tatiana Storm
Today, building the truck of your dreams is about as difficult as opening boxes considering the huge selection of suspension components, wheels and tires, performance enhancements, grilles, lighting, bed covers and more which are now available. Admit it; a stone stock truck will never serve your needs.
Whether you lucked out and hit the lottery or just received your income tax return, you can soon be driving the custom truck of your dreams.
That picture in your mind of the perfect truck portrays an extension of your personality and it can easily be fabricated by simply making a list of components.
Who knows, in a few short months you could be winning show trophies, enthusiasts will be shooting photos of your wild ride and cute girls asking for a ride. A few more web site trips and I will have my parts list complete. Ah...dreams!
Exterior customizing accessories are probably one of the most popular of all aftermarket products because they convey immediate visual impact, everything that a person would want to install to give the exterior of his truck that cool, custom appearance.




Adding performance is a necessary part to building a custom truck. Simple ways include adding an air intake and a cat-back exhaust system, which not adds power, but also makes your custom truck sound more aggressive.
There are many different products to choose from ranging from exhaust to superchargers to power programmers.



Brake upgrades are really a natural for a sport truck for a couple of reasons. First, any time that you increase the diameter of your wheel and tire combination you are giving the Wheels and Tires a lot more leverage on your brakes than the stock Wheels and Tires had.
This in effect actually reduces the performance of your factory brakes and a brake performance upgrade is necessary to restore the stopping power of your truck.
Second, a set of 20-inch or larger Wheels create a lot more space inside your Wheels and the best way to fill that space is with a set of big brakes - especially if the plans for your truck include any of the products from the engine performance section.
Because when you add products to make your truck quicker and faster it makes sense to add products that will help it stop in a shorter distance as well.
SUSPENSION Whether your truck is lifted or lowered, altering the ride height is one of the first steps a custom truck builder has to perform in fabricating a cutting-edge truck, which is an extension of your personality.
This is the only way to make your wheel & tire selection fit the wheel well openings of your truck.




You literally have hundreds of custom components at your fingertips when it comes to perfecting your trucks stance and we made the shopping and selection a breeze! Only question is whether or not you drop it 'til it scrapes or lift it until your nose bleeds?
TIRES One of the nearly automatic products that custom truck owners want to get their hands are a set of aftermarket tires, usually to go along with a new set of wheels.
As most know in today's tire age, there are spectrum of sizes and dimensions. It is important to know the height and width of your prospective new Tires and understand how they will both look and fit on your truck. INTERIOR Whatever kind of truck you drive, chances are you spend most of your time in the driver's seat looking out.

Regardless of how passersby view your truck, they see it from the outside. You live on the inside.
Even though most late model pickup trucks look great from the factory there is always room for personalizing. And if your truck is an earlier model vehicle, the options for upgrading and improvement are almost endless.
Article Source: https://EzineArticles.com/?expert=Tatiana_Storm

Custom Truck Wheels By Steven Farber
Check out the Customs Rides back in the Day!

Look around and you will see an increase in custom wheels used on trucks today. Less than 20 years ago trucks were just cargo hauling vehicles. In the early 1900s trucks were used primarily for local wholesale and retail deliveries.
Today when we talk about trucks we are talking about light trucks. Light trucks include pickup trucks, minivans and full-size vans, and sport utility vehicles. Twenty five percent or more of all new vehicles sold are light trucks.
There is an huge amount of accessories that allow pickup truck owners to convert their weekday work horse to comfortable, efficient and enjoyable transportation.
Accessories like lowering kits, lift kits, tonneau covers and custom wheels. Most of these accessories don't have to be practical, people just want to modify a truck to suit their life styles.
Custom Truck Wheels are one of the best accessories you can buy when it comes to improving your ride. It's important to make the right choice for your light truck custom wheel needs. Weather you own a regular cab, extended cab, 4X4 or 2X4 Chevy, Ford or Dodge truck, custom wheels can have a big impact on performance.
Shop on line and get the best price. Save even more on wheel and tire packages and have them shipped to your front door ready to install.
On line merchants always know which custom rims will fit best. Find truck rims ranging from 15 inches to 26 inches. If you have a 4X4 they make them even bigger. Look for wheels on line marked RWD for rear wheel drive.
If you have been thinking of restyling your truck lately, start with custom truck wheels.
Replacing your wheels will make your truck look sportier while enhancing handling and ride quality when matched up with a new set of tires. We recommend Alcoa wheels, American Racing and Weld wheels for that eye catching look.
These manufactures have been stealing the hearts of truck lovers everywhere for years.
Steve Farber is an author and web site publisher on custom wheels including custom truck wheels and car wheels. Read articles and reviews on the top 60 custom wheel manufacturers in the market today at http://www.custom-wheels-n-rims.com and http://www.just-spinner-rims.com Article Source: https://EzineArticles.com/?expert=Steven_Farber

If you have time you might want to take a look at Vintage HOT RODs.


Return to The Custom Car Mall from Custom Trucks


Tell Us About your Custom Car?
Write It Here!
Do you have a great story about a custom ride, or own a custom yourself?.

Share it with us!

Tell us why you built your custom ride etc.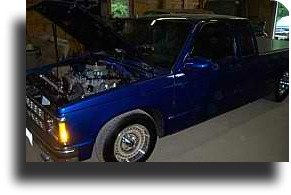 The Mall was built for people just like you, who would enjoy finding new products for their custom. It's a great place for showing off your ride! Show your custom project Here.


Think of This Mall as one of your local stores.