Hot Rods "Mean Rides"


Hot Rod Performance!

Modified Cars are Great Hot Rods!

Hot Rodding is a Cool Thing!

Hot Rods And Their Relation To American Culture
By Joe Whyte
For a good half-century now, the hobby of hot-rodding typically meant taking a cheap car, taking out any body part that didn't matter (i.e. roofs, hoods, bumpers, fenders, seats, and other such nonsense), modifying the engine and/or dropping in a bigger one for greater performance (often protruding upwards from the hood), and fattening up the tires for extra traction.




The term is still as accurate as ever. In fact, not even the cars in question have necessarily changed: one very typical image of a hot rod is a muscle car straight from the 1960s (the so-called muscle car golden age), restored to all its glory and then some. It's not uncommon to take the great ancestors of cars we know today (Mustang, GTO) or ones forgotten by all but a few (Plymouth Barracuda), and send the output of its V8 soaring to 600 horsepower and above.Check out the type of Engine & Drivetrain
here!
They can be just as much about customizing as weight-saving (think of flaming paintjobs), and price isn't necessarily an object: one notable Barracuda ("Hemi Cuda" in hot rod speak) on the cover of a major-name hot rod magazine had every body panel and interior item customized to its owner's desire. For $340,000.
As for the cars relation to American culture, the link is quite strong. Nearly all hot rods are American and almost always rear-wheel-drive. In our culture, quarter-mile times make the man.
Enthusiasts who spend as much time in the present as the past also pay close attention to modern-day production cars like the new Mustang, and the upcoming 2009 Chevy Camaro and Dodge Challenger are currently headline news.


Of course, no rule ever said it had to be a car, per se. Muscular + American seems to add up to enough; Jeep's Grand Cherokee SRT-8 seems to be a hot commodity, no doubt due to the street cred of its 425-horsepower modern-day Hemi V8. Even the new Chevy Tahoe gets attention.
But some define the genre on their own terms, creating the occasional aberration. One individual dropped a turbocharged-and-NOSed Buick V6 right under the hood of a Geo Metro, for crying out loud. If you can burn through the quarter-mile in 9.3 seconds at 147 MPH, who cares how you get there?
If rods are to be defined as speed on the cheap, count on it being a part of our culture as long as Planet Earth has fuel.Joe Whyte publishes HotRod.com's articles. His expertise in Muscle Cars and Street Rods is evident is all his articles. Newly publishing Ezine's online to illustrate and educate auto consumers.Article Source: https://EzineArticles.com/?expert=Joe_Whyte
What the Future Holds for Hot RodsBy Joe Whyte Order Brand Name Tires 4quicktires.com Get Brand Name Tires, Satisfaction Guaranteed-See Daily Specials Here!Eventually, all the muscle cars from the 20th century will return to the Earth in various altered physical states. The sport obviously can't continue forever in current form.
But a great assurance of its future is the imminent resurgence in modern-day successors to the cars that hot-rodders worship so dearly. The new movement started in 2005 with the first new Ford Mustang since the late 70s.
All the basics were there - rear-wheel-drive, V8, classic looks, cheap sticker - and it fit the profile of being designed and built in America. Even better, the Mustang's V8 is now a modern piece that will pass all emissions standards in the foreseeable future and finds application in many cars and trucks within the lineup, satisfying that essential hot rod need of "cheap parts."
Better yet, this 1990s-conceived engine is now developing a history and lineage (dare I say legend) of its own. Lastly, the Mustang is selling well. Ford fans, at least, can relax.
Moparheads have the next-best news. While they have nothing as cheap, focused, or American as the Mustang, their triplets of Chrysler 300C, Dodge Magnum, and Dodge Charger form a close second. Those will soon become quadruplets if the Dodge Challenger coupe (the most historically faithful) becomes a reality later this decade, probably sporting the two Hemi V8s (the 5.7-liter and the 6.1-liter) found in existing models. Like Ford's V8, the current-day Hemi is in great demand.



Followers of the General will probably get something of their own. The Chevy Camaro concept has sparked just as much serious interest as the Challenger, meaning enough to warrant production. It too will hold the Corvette's LS7 V8 good for 400 horsepower, prompting another few decades of Mustang-vs-Camaro wars. And while there won't be another Pontiac Firebird, Pontiac is supposed to get a replacement for the GTO, as much as the current one fizzled. Find Premium Grade Auto Parts without the heavy price tag only at Parts Train - Largest Auto Parts Online Inventory.
The funny thing is that these cars will have so much muscle straight from the factory that it's boggles the mind thinking of ways to get any more speed out of them, especially on the cheap. But that's a challenge any true hot rodder would happily take on.
Joe Whyte publishes HotRod.com's Hot Rod articles. His expertise in Muscle Cars and Street Rods is evident is all his articles. Newly publishing Ezine's online to illustrate and educate auto consumers.
Article Source: https://EzineArticles.com/?expert=Joe_Whyte Return to The Custom Car Mall from Hot Rods



Tell Us About your Custom Car?
Write It Here!
Do you have a great story about a custom ride, or own a custom yourself?.

Share it with us!

Tell us why you built your custom ride etc.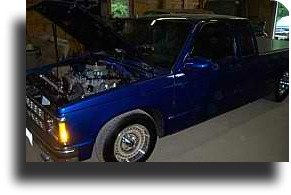 The Mall was built for people just like you, who would enjoy finding new products for their custom. It's a great place for showing off your ride! Show your custom project Here.


Think of This Mall as one of your local stores.