Street Rod



The Difference Between a Hot Rod and a Street Rod
By: Dan Fehn | Posted: May 12, 2010
The terms hot rod and street rod are used interchangeably by many people, but there are some technical differences between the terms. As the words suggest, street rods are generally street legal and do not race in sanctioned races.




The street rod was born during the 1950s as engine and racing technology took some major leaps forward in a small amount of time, and many hot rods were now too dangerous to be street legal.
The hot rod actually split into a multitude of categories in the 1950s, so knowing some of the history of the hot rod will help explain the difference between these two terms.
Hot rodding started in the 1920s in California, where millions of cars had been sold by the middle of the decade. Young men could buy a cheap used car, and parts were cheap and plentiful to turn these into racing machines.
Groups would meet up in the salt flats in central California for evening racing.
Most of these cars were Model Ts powered by their tiny 20 horsepower engines. To increase speed and acceleration, the cars were stripped down to the bare minimums.
This included removing any extra panels, running boards, ornaments, headlights, etc. This was the beginning of the hot rod look as we know it today, with exposed engine bays. These first cars were not called hot rods at the time. They were nicknamed gow jobs.
By the 1930s, engine technology was rapidly changing and the fun racing was now turning serious and sometimes deadly, with speeds of over 100 mph being achieved thanks to Fords newest engine, the flathead V8.
This engine produced 80 horsepower from the previous 20, but hot rodders quickly learned how to tweak the engine to produce around 160 horsepower.



This was achieved by adding multiple carburetors, straightening and shortening the exhaust, and removing the muffler. By the mid 1930s the Great Depression was in full swing, and through mid 1945 World War II was happening, and the hot rod scene was basically dormant.
Things would completely change after World War II as the hot rod scene ignited all over America, not just California. Soldiers were returning home from war with new-found mechanical skills, extra money, and the craving for adrenaline.
California was also a staging ground for the Pacific war and millions of men would be stationed or trained there, and hot rod stories and pictures were shared by many California men to others from around the country.
By the early 1950s hot rods were starting to be a serious issue in cities, with racing happening everywhere.


The NHRA (National Hot Rod Association) was founded in 1951 to discourage street racing. By the mid 1950s there were sanctioned races around the country, and the popularity exploded. Advances in engine technology now made a race car so fast that they could not be driven on the streets.
Soon there would be funny cars and other types of race cars that did not resemble the earlier hot rod. Racing in these leagues was also very expensive, so many still held onto the street rod as these were now called.
Looks and style started to match the importance of performance, and a new type of car would branch off the street rod. It was the custom car, which basically took a stock car of any model and heavily customized it to be a one of a kind.
So there are the technical differences between a hot rod and street rod, but you can interchange these terms as many people do.



A street rod is always a street legal hot rod, but not all hot rods are street legal. Some hot rods can only race on racetracks due to their heavy modifications. Printed From http://www.articlesbase.com Return From Street Rod to The Custom Car Mall Homepage.



---
Tell Us About your Custom Car?
Write It Here!
Do you have a great story about a custom ride, or own a custom yourself?.

Share it with us!

Tell us why you built your custom ride etc.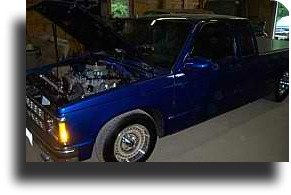 The Mall was built for people just like you, who would enjoy finding new products for their custom. It's a great place for showing off your ride! Show your custom project Here.


Think of This Mall as one of your local stores.