American Muscle; Raw Power!
American Muscle
1st Annual AmericanMuscle.com Car Show and Charity EventFast Fords and Hot Girls: Like PB&J, But BetterBy Jonathan Lamas, About.com Guide
Summertime is the time for car shows. Every weekend, across the country car enthusiasts roll out their favorite rides to bask in the glow of finely polished paint and chrome under a warm summer sun. Though all car enthusiasts share a common thread, Mustang owners are among the largest and most loyal group of gearheads.Of course hot girls, raw horsepower, free food and free stuff are always good too.




And that's just what people got when they showed up for the 1st Annual AmericanMuscle Car Show and Event. In a salute to all things Mustang, AmericanMuscle.com hosted more than 150 super 'Stangs on July 19 at its corporate complex in Malvern, PA. With both new and old Shelbys, a trio of vintage Mach 1s, with all the modern fixin's, and a host of fresh from the factory Fords, all bearing the full AmericanMuscle treatment.
The Best in Show trophy went to Tony Massimano for his fully-custom '69 Mach 1.
That's not to say that the many show Mustang owners on hand weren't clammering for free stuff from their gracious hosts. The crew from AmericanMuscle, along with top Mustang performance brands SCT, Roush, Eibach, MagnaFlow and more were handing out and raffling off the latest top-of-the-line products like it was fresh-fish on a hot dock.



By the end of the day, three new cat-back systems, two SCT tuners, two sets of Hawk brake pads, two sets of Eibach springs and two full sets of dba rotors were just a fraction of the items people took home for the price of a raffle ticket, or less. If fact, three lucky guys, were met in the sales line by AmericanMuscle COO Steve Voudouris who informed the fortunate shoppers that their bill would be waived. In other words, their stuff was free.
A pair of painted-to-match Xenon window scoops, a set of Ford Racing springs and a pair of Steeda springs were all on the house, just for coming to the show. That's a darn good return for the $10 registration fee that also included a free T-shirt, free food, two magazines and more.




The party at American Muscle on July 19 wasn't all just for fun though. The company donated all proceeds from the raffle, food sales, shirt sales and registration to Homes for Our Troops, a charity that builds or buys homes for veterans that have become disabled during active duty.
Though the goal for the day was an impressive $5,000, when all the tickets were counted and the individual employee contributions were tallied at the end of the day, a check was for $8,015 to the worthy cause. Retrieve from online on 9/25/2011, visit http://blog.americanmuscle.com/. Return from American Muscle to Muscle Cars


Tell Us About your Custom Car?
Write It Here!
Do you have a great story about a custom ride, or own a custom yourself?.

Share it with us!

Tell us why you built your custom ride etc.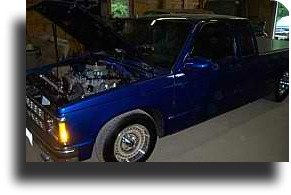 The Mall was built for people just like you, who would enjoy finding new products for their custom. It's a great place for showing off your ride! Show your custom project Here.


Think of This Mall as one of your local stores.