Custom Motorcycle "Oh so Cool"




Custom Bike Part 1
Custom Builder Thunder Struck's Mark Daley
Bryan HarleyCruiser Editor |Articles|Articles RSS|Blog|Blog Posts|Blog RSS
Our resident road warrior has earned his stripes covering the rally circuit, from riding the Black Hills of Sturgis to cruising Main Street in Daytona Beach. Whether it's chopped, bobbed, or bored, metric to 'Merican, he rides 'em all. It's hard not to attract attention when your motorcycle is slammed to the ground, stretches over 10 feet long, sports Ferrari-style red, black and gold colors, and has an intriguing quad carb setup jutting out its right side.




Add to the equation a unique two-piece, bolt-on frame that houses a Crazy Horse Power Plus engine, throw in an innovative rear braking system and you've got Sniper, winner of the 'Builder's Choice' award at the 2009 Las Vegas BikeFest Artistry in Iron competition.



With features like quadruple carbs, an open triple-belt primary, and a disc-brake mounted in the center of the rear wheel, the Sniper easily earned the 'Builders Choice' award at Las Vegas BikeFest 2009.
Sniper is the creation of custom motorcycle builder Mark Daley of Thunder Struck Custom Bikes.
Magazine covers featuring past poster bikes plaster the wall of his Medford, Oregon garage, testaments to the achievements he has accomplished over the course of the last 14 years.
But the competition where we met him is a different beast altogether. Las Vegas' Artistry in Iron contest is tough. It pitted Daley against 19 other accomplished bike builders, including the motorcycle that won second in this year's AMD Freestyle class.
So when Sniper was chosen by his custom-building peers as best-in-show, Daley couldn't believe that he had won.
"It was like being on the cover of Rolling Stone for me. I was honored just to be there. When they announced that I had won, you could have knocked me over with a feather," he said.
Like all great ideas, the creation of Sniper had to have a starting point, and on this build it just happened to be at wheel level.




"About two-and-a-half years ago I was working on an idea with Psycle Ward Wheels. We thought it'd be cool to make a new rear brake. It's a disc brake that sits in the center of a multi-piece billet wheel with no fasteners," said Thunder Struck's Daley.
So they teamed up to create a rear wheel with a 10-inch disc in the center of it. A special mount was made to hold the rear 6-piston Nissin caliper which is squeezed between.
In the middle of the Psycle Ward rear wheel sits a 10-inch disc mated to a six-piston Nissin caliper. the two hubs that the wheel's wide spokes are bolted onto.
To pull this off, the wiring to the sportbike-style caliper had to be run through the axle, in and out of the swingarm and through the frame to the hand control on the right side of the handlebar.
With the design of the wheels behind him, Daley's next challenge was to 'make the bike so different that nobody can take their eyes off it.' For this mission, Daley took a Legend Low Life frame he had sitting around the garage, chopped it in half, and created a one-off top half from billet aircraft aluminum.
The single-piece of billet literally bolts to the lower section, which came in handy when it was time to drop in the engine, according to Daley.



The top half of the frame also houses a two-piece CNC billet aluminum tank that 'floats' between the black bars of the backbone.
The tank itself is a finely crafted piece, wide in front and narrow in back, each side decorated with three Carbon Fiber-covered vents that have an aeronautical feel to them. The top half of the frame he devised also serves as a mounting bracket for the small custom seat pan.
Further alterations to the Legend Low Life frame include adding molding with integrated air dams and screens to the lower frame rails around the Legend Air Suspension system that raises and lowers the bike.
The combination used in Sniper's frame makes you stop and look to try and figure. Retrieved from online on 9/25/2011,http://www.motorcycle-usa.com/294/5376/Motorcycle-Article/Custom-Builder-Thunder-Strucks-Mark-Daley-.aspx Return from Custom Motorcycle to Custom Bikes



Tell Us About your Custom Car?
Write It Here!
Do you have a great story about a custom ride, or own a custom yourself?.

Share it with us!

Tell us why you built your custom ride etc.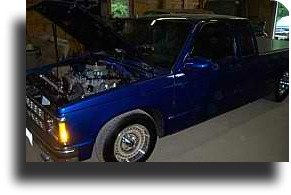 The Mall was built for people just like you, who would enjoy finding new products for their custom. It's a great place for showing off your ride! Show your custom project Here.


Think of This Mall as one of your local stores.