Lamborghini Sesto Elemento Concept


Lamborghini Sesto Elemento ConceptBy Kristen Hall-Geisler, About.com Guide
What Is a Lamborghini Sesto Elemento?:
Lamborghini Sesto Elemento Pictures With a name like that, it has to be good, right? The Lamborghini Sesto Elemento is named for the sixth element in the periodical table, carbon. As in carbon fiber. As in the car is lousy with carbon-fiber reinforced plastics, Lamborghini's new favorite material.
Lambo HQ sent out a series of six teaser shots, each an almost abstract close-up of the concept, leading up to its debut at the 2010 Paris Motor Show.
They had us all believing it would be the Murcielago replacement, but alas, no. We got this stunner of a concept car instead.



Light Body + Big Engine = Awesome:Making a car out of so much carbon fiber means it doesn't weigh very much at all. The Sesto Elemento is a hair over one ton, at 2202 pounds (or the cooler-sounding 999 kg).
Rather than continue to push for every-higher horsepower numbers, Lambo decided to go in the opposite direction, with a light car packing a 5.2-liter V10 engine behind the seats.
It's "only" got 570 hp, but with so little mass to move, it does 0-62 mph in 2.5 seconds or so. Top speed is "well over 300 km/h," according to Lamborghini, or more than 185 mph.
X Marks the Spot:The low-slung profile with sharp, origami-like edges is very Lamborghini. In grade school, we did experiments with straws to determine which was strongest, a square or a triangle. Triangle won.



It seems Lamborghini engineers did the same experiments, because the shape can be found all over the Sesto Elemento, from the dual ribs on the hood to the cutouts in the dashboard.
Folds in the carbon fiber on each side meet in the middle, at the car's center of gravity just in front of the engine, forming an X. Two air scoops behind the roof and ten hexagonal intakes deliver cool air to the engine. A Minimalist Interior:Lamborghini solved the problem of heavy seats by not having conventional seats at all in the Sesto Elemento concept.
The car's Forged Composite tub, as they're calling it, is the base for the seat cushions, which are attached right to the monocoque.



With the seats being rather fixed, then, the steering wheel and pedals are adjustable. Like the exterior (which is clear-coated with some sparkly red bits added), the interior is a carbon-fiber addict's dream.
Those triangular elements show up inside, too, with weight-saving cutouts anywhere engineers could work them in, like the doors and dash.
Lamborghini Sesto Elemento Concept Facts and Stats:Engine: rear-mid-mounted 5.2-liter V10 Horsepower: 570 hp Torque: 398 lb-ft Top speed: over 185 mph (est.) 0-62 mph: 2.5 seconds (est.)
Retrieved from online on 11/3/2011 http://exoticcars.about.com/od/guidedtours/p/Lamborghini-Sesto-Elemento-Concept.htm Return from Lamborghini Sesto Elemento Concept to Lamborghini



Tell Us About your Custom Car?
Write It Here!
Do you have a great story about a custom ride, or own a custom yourself?.

Share it with us!

Tell us why you built your custom ride etc.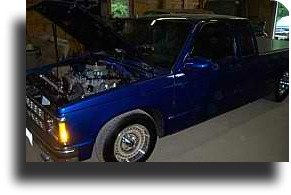 The Mall was built for people just like you, who would enjoy finding new products for their custom. It's a great place for showing off your ride! Show your custom project Here.


Think of This Mall as one of your local stores.