Lowrider Show; Living the Low Life!




1983 Oldsmobile Cutlass - Changing Mindz'83 Olds CutlassFrom the November, 2011 issue of LowriderBy Phil GordonNarrow minds often lead to complacent behavior. It takes a true creative person to constantly change thoughts and ideas to elevate their own level of perfection.
How many times in your own life have you found yourself stagnant, not realizing in most cases that your way of thinking was actually the biggest obstacle? For 26-year old Ralph Villegas of Pueblo, Colorado, the journey of building a Lowrider has been an ever-changing trip, fraught with redirections and adjustments. Initially, Ralph sought out a car that could double as his daily driver; a ride that he could depend on to handle his work commute.



As is the case with many Lowriders, that plan took a different turn when Ralph got wind that a friend of his was putting his '83 Oldsmobile Cutlass on the market. Although the G-body had no motor or transmission, the frame and body was in perfect shape, and Ralph's vision of the daily driver suddenly changed. At this point, the ideas started to flow and the saga of "Changing Mindz" began.
Thanks to an already established relationship with some riders in the Rollerz Only Car Club, one of the most respected and competitive clubs in the world, Ralph realized the true potential of the Cutlass. Although the original plan after the purchase was to leave the paint and body in stock form, Ralph's mind once again changed and he enlisted Vanderslice in Albuquerque, New Mexico to overhaul the exterior of the Oldsmobile.
A House of Kolor Magenta was laid down along with some wicked graphics, including the newer Oldsmobile logos to give the Cutty a more modern and unique identity. Not to be overlooked, Ralph also had the undercarriage smoothed down and painted to match.



While the exterior had been given the royal treatment, the road worthiness of the Cutlass left much to be desired, especially if this car was to become the daily driver that Ralph was seeking. A Chevy 350 was added to the Cutlass with the help of Ralph's father, Ralph Sr., who wanted to help make his son's Lowriding dreams come true.
Of course the weather and terrain in Colorado can sometimes be a bit too treacherous for a scraper to handle, so careful attention needed to be paid to the Cutty's suspension, otherwise it would be on a fast track to nowhere.
In order to assist the car in handling the mountainous areas of Colorado roads, the Cutlass was brought to Champions Hydraulics in Pueblo, Colorado, where Jerry and Jim added a custom CCE two-pump, four-dump hydraulic setup using hard-lines that were plated by Denver Bumper. Ralph enlisted Angel's Upholstery in Alamosa, Colorado to add a custom peanut butter suede and vinyl interior that flows all the way into the trunk. Retrieved from online on 9/15/2011, http://www.lowridermagazine.com/features/1111_lrmp_1983_oldsmobile_cutless/viewall.html#ixzz1c7fsCDqj Return from Lowrider Show to Low Riders


Tell Us About your Custom Car?
Write It Here!
Do you have a great story about a custom ride, or own a custom yourself?.

Share it with us!

Tell us why you built your custom ride etc.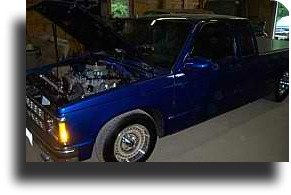 The Mall was built for people just like you, who would enjoy finding new products for their custom. It's a great place for showing off your ride! Show your custom project Here.


Think of This Mall as one of your local stores.