Lowrider; How Low Can You Go!




Lowrider1938 Chevrolet Coupe - Estilo ViejoOne Badd New Mexico '38 CoupeFrom the November, 2011 issue of By Marco Patiño
Some of our culture's most iconic machines were born at the General Motors plant. From the 1930's to the present day, this industry giant has served as the backbone for Lowriders by cranking out model after model of automotive perfection. So many GM Lowriders have been built, that many outside of the culture as well as casual participants associate GM as the go-to automaker for the perfect Boulevard machine.



One such group of GM's that has maintained a continued affinity from Lowrider purists are the Bombs, which carry a pre-1957 model year requirement. This Bomb feature brings you a perfect example of why these cars have remained at the top of many Lowrider builders' wish lists for years.
Feast your eyes on this gorgeous 1938 Chevrolet Coupe, dubbed "Estilo Viejo," which means 'old style' in Spanish. This beauty is built and owned by longtime Lowrider Santiago Romero, who happens to be the Vice President of the Duke's Car Club Bernalillo Chapter.
Located due north of Albuquerque, Santiago faced limited areas in which to search for the vintage Chevy, but he got lucky one day while out on a long drive. "I first spotted the vehicle at an estate sale in the town of Estancia, which is about 60 miles East of Albuquerque," he says.
Not in the area initially to find a car to build, his hunt had actually taken him out to the town for a different reason altogether. "I originally was interested in purchasing a welder, but once I saw the vehicle, I knew it had to be mine," Santiago explains.
If there's one thing to know about Lowriders, it's the fact that they are always on the hunt for a new toy; even when they aren't necessarily looking for one. Focused on this rare find, Santiago couldn't pass up the chance to own it, and thus cut a deal for $1500 to purchase the car.



Needing a complete restoration, the Bomb was brought to Santiago's home in pieces and his work was cut out for him. Building this rare automobile proved to be an arduous task for this Lowrider, as finding parts and time in his schedule to build the car made this restoration quite the long haul.
A true Lowrider always finishes a build, and Santiago finally saw the light at the end of this proverbial tunnel. After countless hours and about four years, the vehicle was finally assembled and taken to the paint shop for fine bodywork and paint prep.
Now that holding the keys to his pristine Bomb has become a reality, Santiago took some time to reflect upon his Lowriding career with us. "I have always had a love for cars; I grew up in the Northern part of New Mexico, close to the Espanola area, which is known as the "Lowriding Capital of New Mexico," he says proudly. "I grew up loving the old Chevy Bombas, and for me, Lowriding has been a way of life."
He's not kidding either, as this veteran has been Lowriding all over the U.S., Germany, and Hawaii, thanks to his career choice in the military. "After retiring from the U.S. Army, I came to live in Albuquerque and continued Lowriding," the dedicated Santiago states.
He extends his gratitude and appreciation to his two sons Daniel and Dennis, and to his neighbors, Al and Ace, as well as to his many family and friends who have supported him in the build of this glorious Bomb. "The car was built in honor of my father, for showing me the lifestyle he lived back in the early 50's and 60's," Santiago says with pride.
With motivation like that, it's easy to understand why this immaculate Bomb has taken home several first place trophies, and remains a force to be reckoned with in the state of New Mexico. Retrieved from online on 9/15/2011, http://www.lowridermagazine.com/features/1111_lrmp_1938_chevrolet_coupe/viewall.html#ixzz1c7fC9McZ Return from Lowriders to Low Riders


Tell Us About your Custom Car?
Write It Here!
Do you have a great story about a custom ride, or own a custom yourself?.

Share it with us!

Tell us why you built your custom ride etc.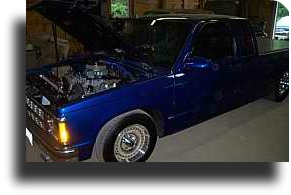 The Mall was built for people just like you, who would enjoy finding new products for their custom. It's a great place for showing off your ride! Show your custom project Here.


Think of This Mall as one of your local stores.