The Maybach; "Ultra Luxury"


History of Maybach: Ultra-Luxury for Two ErasBy Kristen Hall-Geisler, About.com Guide
Maybach and Mercedes: Partners from Day One:
Wilhelm Maybach was one of the first engineers in Germany. He designed the first Mercedes in 1901, and, along with his son Karl, created the first Maybach W1 concept in 1919.
The car debuted as the Maybach W3 at the 1921 Berlin Auto Show with a 5.7L V6 engine, which Maybach later sold to fellow luxury car maker Spyker in Holland.
Maybach the man also worked with Graf Zeppelin (no relation to Led) on engines for the airships that bore his name.



Zeppelins and Limos:Maybach's next milestone came in the Type Zeppelin DS8, which debuted in 1929.
This car had a huge 7L V12 with 200 hp and a top speed of 93 mph. These elegant, earthbound Zeppelins were put into use as parade cars, hotel taxis, and more.
Like most luxury cars of the era, custom coachwork could be ordered to top off the Maybach engine and Mercedes-Benz chassis. Cars like this could cost more than 40,000 deutsche marks, or $9,523 in 1930.
The next model to make waves was the SW 38, a smaller Maybach with a swing axle (thus the SW). With five regular seats and two folding seats, it made an excellent limousine.



Sleeping Beauty Wakes:In 1941, Maybach ended automobile production in order to turn its attention to military engines. Many companies made the same change, and many companies didn't come out the other side when World War II ended. Maybach was one of these.
But in 2003, Mercedes-Benz brought the company back to life with two understated but undoubtedly luxurious models, the 57 and 62.
The cars had the same V12 engine under the hood, but the 62 was a half-meter longer than its sibling 57.
The Center of Excellence:Maybach Manufaktur hand-builds cars to order in Sindelfingen, Germany, at the factory it calls the Center of Excellence.
Models have grown from the base 57 and 62 to include higher-horsepower 57S and 62S variants, a Landaulet with open rear roof, and a forthcoming resurrection of the Zeppelin name.
Each model comes with sterling silver champagne flutes and the finest leather upholstery and wood trim, plus a raft of options.
The latest Zeppelin will even have an integrated perfume atomizer to waft your favorite fragrance throughout the cabin. The first car for Mercedes is now the last word in extravagance. Retrieved from online 10/5/2011,http://exoticcars.about.com/od/overviewsofmaker1/p/MaybachHistory.htm Return From Maybach to Exotic Cars



Tell Us About your Custom Car?
Write It Here!
Do you have a great story about a custom ride, or own a custom yourself?.

Share it with us!

Tell us why you built your custom ride etc.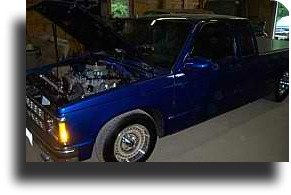 The Mall was built for people just like you, who would enjoy finding new products for their custom. It's a great place for showing off your ride! Show your custom project Here.


Think of This Mall as one of your local stores.