My favorites (Im a CHEVY girl- however, if it looks mean- I love it!)
by Geri
(Gainesville FL USA)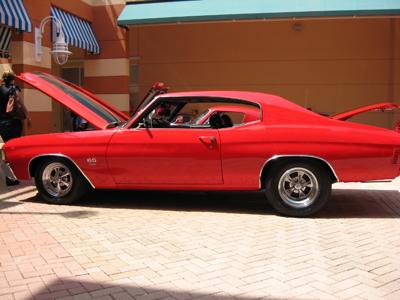 Car Show Picture
I loved cars ever since I was a little kid. I was sort of a tomboy, and I used to read my older brothers Hot Rod magazines, and, instead of dolls, I owned Hot Wheels and Matchbox cars, which I would put in my dollhouse- to heck with dolls! When I was 5 years old, I loved to watch "I DREAM OF JEANNIE", not because I liked the show, but because they have an awesome 67 GTO on it.
When I went into 1st grade, my teacher was bringing in a fish tank for us to set up in the classroom. Me and my classmates went out to bring it in- and, then I saw her car. It was a 1969 GTO, and I even remember the color- it was light green. I didn't care about the fish tank- I kept circling that car, wishing I could go for a ride in it!
My dad bought a 1965 Impala Super Sport in 1972. It had a 396 in it, and, me and my older brother were fighting about who was going to own it when we got older (I was 7 years old in 72)

My dad was an avid Chevy lover, especially Impalas, (He owned a 55 Bel Aire when my mom and him first met) So, a couple of years ago, in 2008, I found a 1965 Impala SS (I didn't get my dads) and I will post pictures of it. I have also owned a 67 Chevelle, 1969 Nova, 1970 Nova, 1979 Camaro, 1970 Camaro that ran 10.5 in a quarter mile.